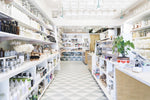 We're excited to have our new website up and running! You'll find it easier to learn more about what we do and see the wide variety of products we carry and refill. It was a pleasure working with
Brief Studio
 who developed this site and created our new look to better reflect our store's aesthetics and vision.
It's been nearly two years since we've relocated to our "new" location and a very overdue message of thanks is in order to those who were part of creating it.
Scott Cohen Design
 understood exactly what we meant when we asked for something like a cute 1950's ice cream shop. He told us to watch Jacque Tati's
Mon Oncle
 and we knew we had found a designer after our own hearts (It's a funny and beautiful film if you haven't seen it). Scott Cohen is a playful designer who is a master of colours and patterns. He's designed some of our favourite spaces in town, including the Nuba in Mount Pleasant.
We had requested that some components of the space be built with repurposed materials and we sure got it. Our ceiling was made from old soap buckets and about half of our shelves were salvaged. We are especially in love with the square peg boards that had come from an old drugstore. The shop was built by Ferren Kinmont Custom Building Services, a bunch of sweet, hard working guys.